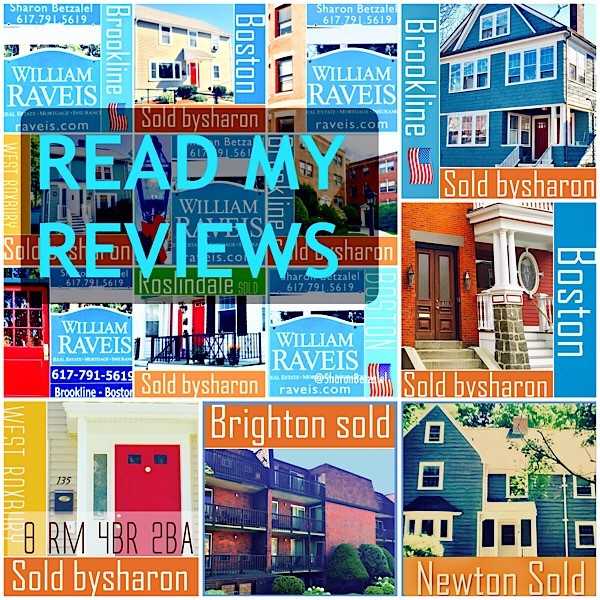 Read Buyer & Seller Reviews & Recommendations for Brookline & Metro Boston Realtor Sharon Betzalel of William Raveis Real Estate – Call 617-791-5619
I contacted Sharon Betzalel when I decided to sell my condo after living there for 39 years because she was a familiar name in the Brookline real estate market. Although I intended to "interview" her, I knew right away that she was the right person to manage the marketing and sale for me, someone I could trust to advise and guide me along the way. She worked tirelessly and energetically, listening and responding to my concerns, anticipating next steps, and offering suggestions/solutions and contacts. While always responsive, honest, and calm, she was savvy about pricing and marketing. And fast. Shortly after photos were taken, the listing went live along with arrangements for an open house, including clever use of social media. She followed through on every detail, eased me through a glitch, and made this a nearly seamless process. I have already recommended her to others in Brookline and will continue to sing her praises. For buyers and sellers, Sharon Betzalel is the best.
– LR from Brookline
Sharon is an excellent Realtor, and really made the process more manageable as a first time home buyer. She was able to answer questions I didn't even know I had before I could ask them, and she was always my best advocate and always encouraged me to do what was right for me in the offer process. She was referred to me by a friend, and I would (and have!) referred her to my friends. She's a great asset in the home-buying process.
– TC from West Roxbury

My husband and I have purchased many properties in our 26 years together. Boston is, by far, the most difficult market we have jumped into and Sharon Betzalel is, without a doubt, the best real estate agent I have ever worked with. I met Sharon Betzalel when I called her office about a Trulia posting. I immediately liked her and decided to work exclusively with Sharon. I am a suburbanite getting into the Boston real estate market for the first time. Sharon is very knowledgeable about the Brighton/Brookline area. She was very interested in my wants and needs regarding the type of property I was looking for. Not wanting to waste my time driving into the city whenever something came on the market, Sharon would scope things out and have me in only when it was something that I would be interested in. Sharon was straight forward, explaining the reality of the Boston real estate market. When I lost a property that I really wanted, she was right there with good advice. I followed that advice, and recently had an accepted offer on a better property than the one I did not get. Once my offer was accepted, Sharon did not forget about me. She kept me posted every step of the way. I know that when I eventually sell this property in order to upgrade, Sharon will be my Realtor of choice for both the sale and the purchase.
-YF from Holliston
We are so lucky that we found Sharon as our agent! From the first phone call to when we finally nailed down our apartment in Brookline last year, (Do you know how hard it is to buy a condo in the Boston area for ourselves as first time home buyers? It's a physical and mental competition…) Sharon is very responsible and patient to answer every question and concern we had, no matter whether on the phone or in the email, in the early morning or late at night.


She is professional and considerate, and she thought about the details for us based on her rich experiences. She even helped us find a handyman and took care of small issues in our condo when we were not available…

We definitely recommend Sharon to anyone who needs an excellent real estate agent, for buying or renting, you won't be disappointed.
LW & CJ from Brookline & Natick

I was fortunate enough to have met Sharon at the very beginning of my real estate search. I was a first time home buyer and pretty ignorant about the market and the process of purchasing a home. Sharon took the time to walk me through every step of the process and helped me navigate several obstacles. She is knowledgeable and communicates clearly. Her professionalism and expertise were invaluable tools. She repeatedly went above and beyond to ensure that I would purchase a property in a neighborhood that I loved.
Throughout the time we worked together, she was consistently professional, patient, kind and always impressing me with her hard work to research whatever question I had thrown her way. Once she met me at an open house and helped me to dig through the snow so I could park my car on the side of the road. She was easy to get in touch with at any hour of the day, any day of the week. She toured countless open houses with me and picked me up from work if it meant being able to see a property during the week before the property went on the market at the weekend open houses. She met me in the evenings or on the weekends because of my work schedule.

If you are looking for an agent that you can trust, who will take the time to explain the confusing and sometimes overwhelming process to you and be by your side through each step, who will be flexible and creative, I would highly recommend working with Sharon. I will gladly refer my friends and family her way without hesitation.
TP from Roslindale

I met Sharon several years ago at an open house. She was very knowledgeable of the Brookline real estate market and so I did not hesitate to call Sharon when I decided to convert my two-family home into two condominiums and live in one of them and sell the other one. She made suggestions as to what improvements I should and should not invest in, as well as listening carefully to my ideas and objectives. She also turned out to be a great resource person, referring me to an excellent attorney who anticipated all the complexities that occur in the process of establishing condominium documents and sales. Her quiet, calm demeanor and her strong and consistent advocacy of my goals assured me that she was always working on my behalf. I highly recommend her services for selling a home.

-KR from Brookline
I am writing to give Sharon Betzalel my highest recommendation. Sharon possesses all of the attributes necessary to be an excellent broker: she knows her market extremely well; she is diligent, responsive and yet very patient with her clients. Sharon is both very professional and personable. She clearly takes pride in doing a good job. In my particular case, selling my mother's house in Brookline after she passed and living out of state was extremely difficult. Sharon was beside me each step of the way from listing to closing. It would be hard to envision someone doing a better job than Sharon or being anything but happy in choosing to work with her.

-CL from Brookline & NH
I have worked with Sharon Betzalel on three cycles of buying and selling over the last 20 years. She is fantastic! Really quick getting back to me and with precise answers and information. She knows a lot about the ins and outs of home inspection, deeds, real estate lawyers, town regulations, taxes. And how things can take a while. What to worry about and what not to. She is very calming, yet truthful. I have asked her for names of workmen, lawyers, etc. and I have been happy with their work. For me, once you see that an agent is capable, it's about trust. I've spend hours with Sharon seeing places, talking on the phone and at closings. There has never been a blip. She is honest through and through. Being able to help people through the often difficult process of buying and selling means a lot to Sharon and it shows.
-KA from Brookline
My husband and I had an excellent experience with Sharon and highly recommend her services. Through her initial advice not to make major changes in our home in order to sell, her accurate assessment around pricing and her well thought out marketing strategies, we found our buyer within the first three days of its listing. We had some unexpected glitches along the way, but Sharon was there at every turn, working and advising until the sale was successfully completed. A+!
-IC from Brookline
We used Sharon Betzalel as a Realtor to help us find a house in Brookline. She went above and beyond what we expected of her. Sharon is a great listener, she cared about what our needs and wants were, she gave us knowledgeable advice about the houses we saw, and she encouraged us to keep looking for a house that we would both love. The house we ended up buying is fantastic and just what we were looking for! We would highly recommend Sharon as a Realtor with no reservations at all.
-MS and MF Brookline
I would definitely recommend Sharon Betzalel as your real estate agent. I have just purchased a place with her help and am very satisfied with her professional approach. She listened to my needs and priorities, realized the limits of my budget, and was able to find an ideal place that met the criteria. She is very easy and fast to communicate with, reliable, and will take time to help you find exactly what you are looking for.
-KD from Brookline
We used Sharon Betzalel in purchasing our first home in Roslindale and could not be happier. We had met with two other Realtors before, and really got the sense that Sharon was "working for us". She was a great listener, understood what we were looking for and made great recommendations along the way. Best of all, she was not pushy at all, and made it about our comfort level. We recommend Sharon to everyone and could not speak more highly of our experience with her.
-RC and RP from Roslindale
Sharon is the consummate real estate professional. During the entire process of selling our condo she went above and beyond to ensure no detail was overlooked. She was available anytime we needed to speak with her, which always put us at ease. Our transaction was completed on schedule due to her tireless work on our sale.
-JA from Brookline
Sharon Betzalel is the epitome of professionalism and is a pleasure to work with. I was lucky enough to deal with Sharon on the seller's side while purchasing my first property. I could not have asked for a more smooth and enlightening experience. Sharon was always timely, detail oriented and caring in her responses and unquestionably delivers a high level of client service. I would gladly recommend her.
-GK from Brookline
As a first time buyer, I could not be happier that I ended up working with Sharon Betzalel. Before we were put in touch, I met with 4 other real estate agents who did not listen to what I was looking for and just signed me up for email alerts. I was getting worried that I would not find a condo at all, based on the places that they were showing me and on what they had to say about my budget. To say that Sharon went above and beyond is an understatement. She saw every property that she could before I did. She truly listened to what I did and did not want. And she answered every email within a few hours (usually under an hour). After I found a condo, she came with me several times to check on things and she met the inspector when I had to work. She continued to provide the support that I really needed as a first time buyer long after her job was really finished. I am so happy with the condo that I ended up with, and I really do not think that I would have found it without Sharon. I would not hesitate a second to recommend her to anyone looking to buy in the Boston area. She really is the best!
-ER from Jamaica Plain
My wife and I worked with Sharon Betzalel from William Raveis to purchase our first home and we really can't say enough good things about her. Her personal commitment, experience, expertise, and very positive outlook made it easier for us to go through the process of buying a new house. She is knowledgeable, approachable, patient and incredibly flexible with her time. During every step of our search she was always there guiding us and giving us her honest opinions. She answered every question and explained every form and every part of the process clearly and thoroughly. Buying a home in this market is very challenging, but working with Sharon made it a worthwhile experience. We highly recommend her service.
-RR and LR from Ashland
Sharon is the best! She helped me buy my place in 1998 and I always said that I would only go back to her in the future, which I did! I now live in a great place that I bought in 2012 with Sharon's help. Sharon is very knowledgeable about the market and is very down to earth.
-MD from Brookline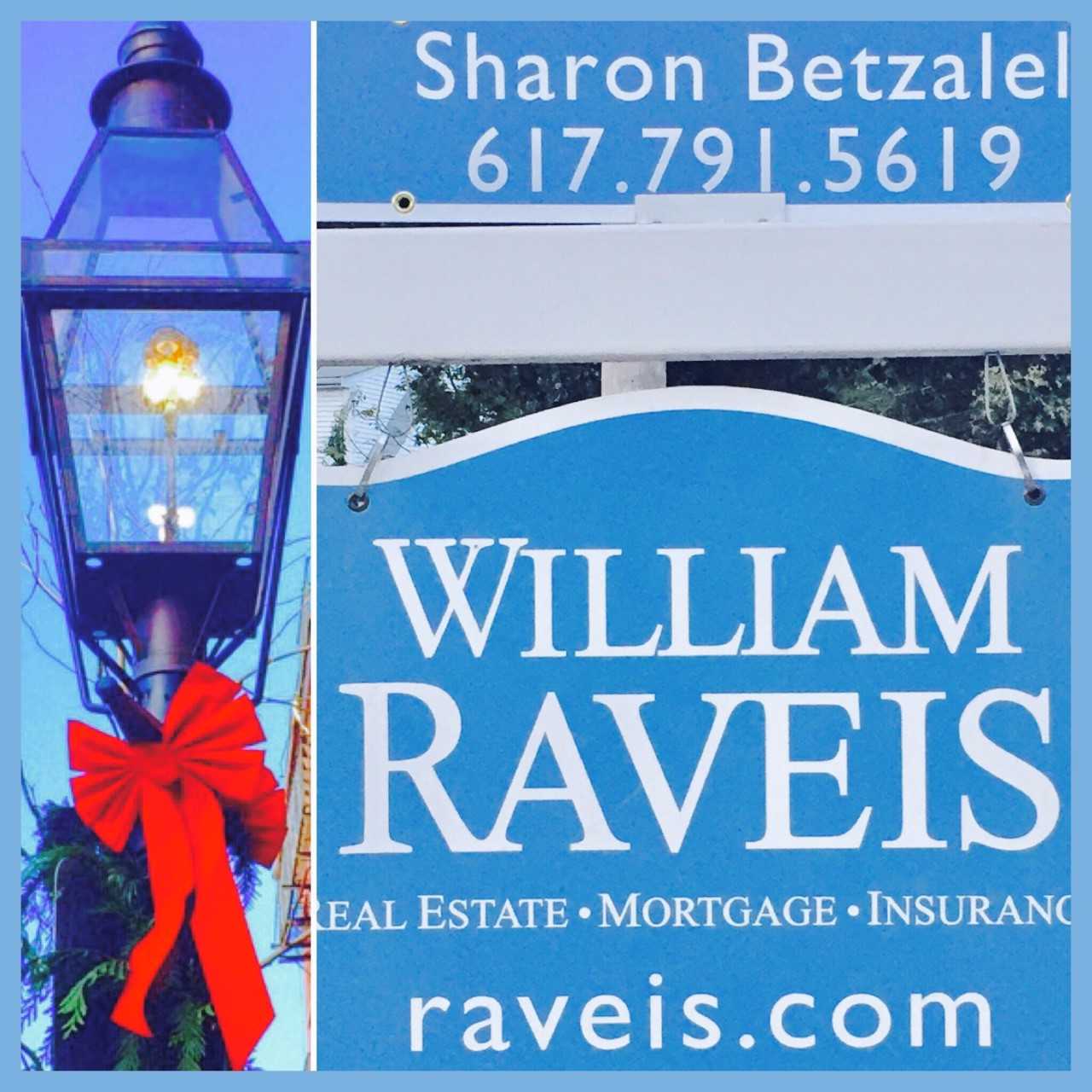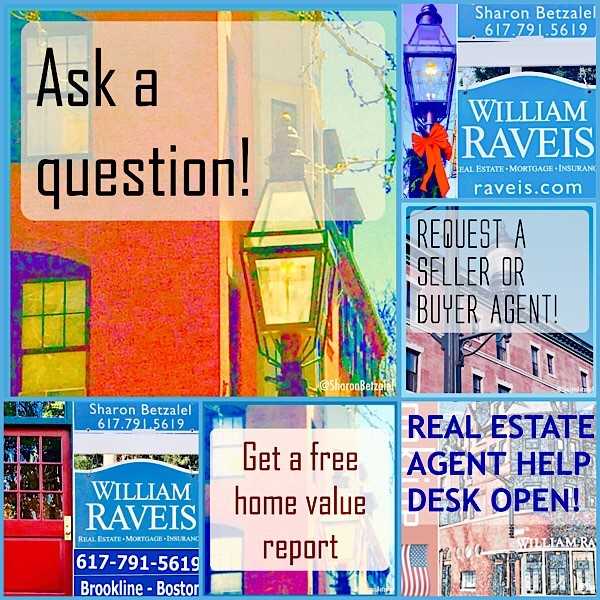 Click here to send a note and ask a question
Brookline Realtor Sharon Betzalel can be reached at 617-791-5619 or email sharon.betzalel@raveis.com.
Click here for Town of Brookline Information
Click here for City of Boston Information

Click here for City of Newton Information

Click here to search real estate & homes for sale